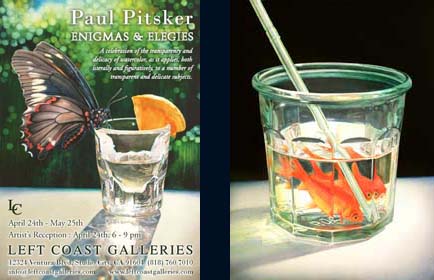 PRESS RELEASE
"Enigmas & Elegies"
A Solo Exhibition of New Watercolors
By Los Angeles Artist
Paul Pitsker
April 24 - May 25, 2010
Opening Reception:
Saturday, April 24th, 6 – 9
Click
here
to see more of the paintings in this show.
Left Coast Galleries will feature artist Paul Pitsker's new watercolors in a solo exhibition titled "Enigmas and Elegies." This show is a celebration of the transparency and delicacy of watercolor, as it applies, both literally and figuratively, to a number of transparent and delicate subjects. One such "delicate subject" that figures prominently in Pitsker's work is the basic fact of our inescapable mortality. Without indulging in the morbid symbolism of the vanitas still-life tradition, Pitsker plays with this theme by employing the other denizens of his studio environs, insects and birds mostly, to act as existential stand-ins in staged scenes of imminent disaster, or as the hapless recipients of messages far beyond their understanding. Thus the beauty of an elegant butterfly sipping liquor from a dazzlingly backlit shot glass in one image is made more poignant by the almost certainly toxic outcome that we imagine. In other paintings, insects inexplicably cling to icicles or suffer fusillades of raindrops, small birds navigate tangles of barbed wire, and goldfish stoically try to adapt to a half-full glass of water. A sly humor pervades the work even as it tangles with unpleasant truths about the brevity and fragility of all life.

Watercolor has a reputation as a medium which rewards splashy spontaneity, yet these paintings are carefully planned and tightly rendered in intricate detail, with photographic blurring and vignetting simulated for a shallow-focus "bug's eye view" effect. Yet the unpredictable and unforgiving nature of watercolor still manages to prevent the result from being entirely photo-realistic. Each painting is the record of a performance, with subtle granulations, paint blooms and stain borders that reveal the story of a laborious and very personal artistic process.

Pitsker completed his Bachelor of Arts with distinction at Pomona College in Claremont, California. He has been awarded: Golden Artist Colors Award, Los Angeles Art Association's California Open, Gallery 825, First Place Award, Outside the Lines, Long Beach Arts, and Second Prize for 2-D media, Visions International, Art Center Waco.

Paul Pitsker's exhibit, "Enigmas and Elegies," will be on display from April 24th through May 25th, 2010 at Left Coast Galleries. An opening reception for Paul Pitsker will take place Saturday, April 24th from 6 to 9 p.m. The gallery is open Tuesday – Saturday, 11 a.m. to 5 p.m. and Sunday 12 p.m. to 5 p.m. with other hours available by appointment.


LEFT COAST GALLERIES
12324 Ventura Boulevard · Studio City, California 91604
tel : 818-760-7010 · fax : 818-760-4164
Gallery hours: Tuesday - Saturday 11-6pm , Sunday 12-5pm, or by appt.
For more information please contact Left Coast Galleries at
info@leftcoastgalleries.com
or call (818) 760 7010